Enjoy Some Sacred Idleness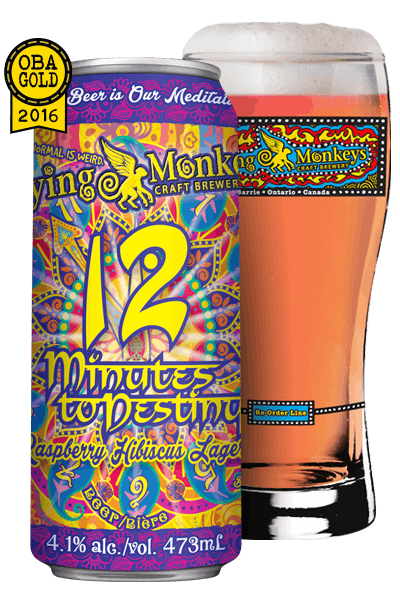 12 Minutes to Destiny Hibiscus Pale Lager
Every now and then, one should sit and enjoy a beer –
unless you're too busy: then you should probably have two.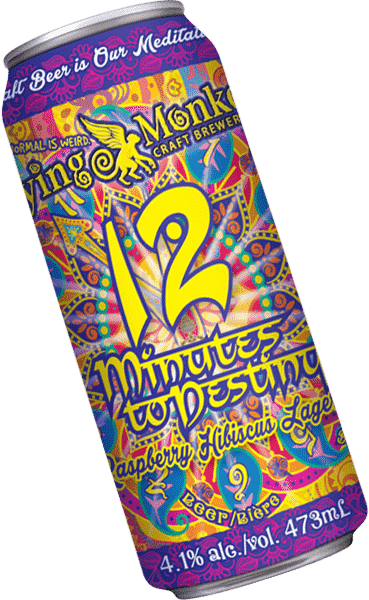 PACKAGE AVAILABILITY
Cans 473mL | Kegs 30L
Available at the Brewery, LCBO, Select Grocers, The Beer Store (Spring & Summer)
LCBO# 514935
INSIDE THE RECIPE
ABV 4.1% | IBUs 8
Malts: 2-Row Pale Malt (Metcalf and Copeland)
Hops: Saaz (bittering and late-hopping)
Special Additions: Hibiscus Flowers, Rose Hips, Fresh Raspberries, Orange Peel

TASTE
Beyond the exotic flush of rosé, the botanical tartness of hibiscus flower compliments fresh raspberries and energizing citrus in this refreshing lager. The clean aromatics from the classic Saaz hops beautifully play in the vivid carbonation of the acerbically sweet subtleties in this exceptional Craft Beer.
STYLE
This sessionable, ruby-tinged lager is perfect for stopping the day and breathing. Steeped with heaps of hibiscus flowers, rosehips, and fresh raspberries, 12 Minutes to Destiny is a uniquely refreshing brew.
SERVE WITH
Pairs well with fish, especially sushi and East Asian cuisines; Chèvre goat cheese; fruit desserts such as key lime pie and strawberry shortcake.