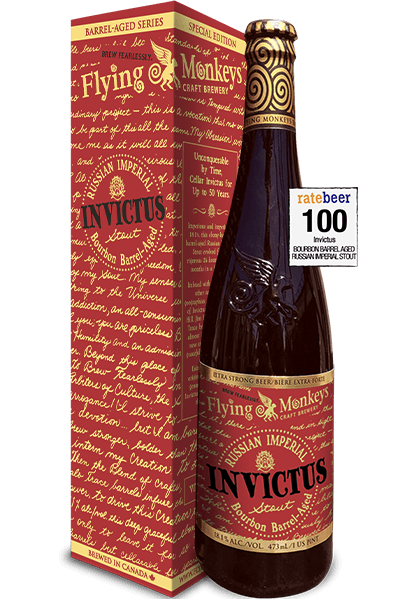 Invictus Bourbon Barrel Aged Russian Imperial Stout
NEW Vintage 2017. Rich & warming, this bourbon barrel-aged, solera system Russian Imperial Stout is our offering to devotees of independent craft brewers everywhere who understand beers that are years in the making, entirely unprofitable, and completely craft.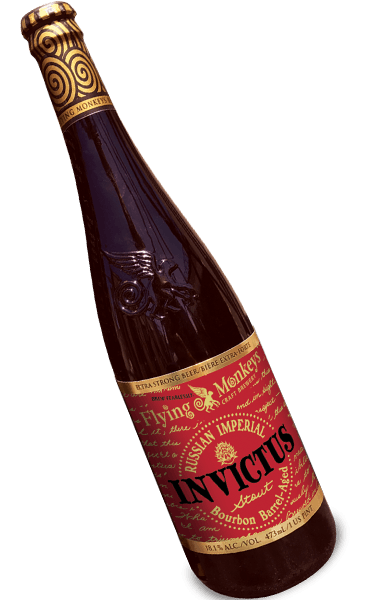 PACKAGE AVAILABILITY
RARE RELEASE.
473 ml Specialty Boxed Bottle
Available On-Line & at the Brewery

INSIDE THE RECIPE
ABV 18.1% | IBUs 30 | SRM 50
Malts: Pale Malt, Munich Malt, Chocolate Malt, Great Western Malt, Caraform III, Roasted Barley, Flaked Oats
Hops: CTZ, Halertauer
Special Additions: Demerara Sugar, Cellared Over a Year in Buffalo Trace, Jim Beam, and Heaven Hill Bourbon Barrels

TASTE
Pours opaque ebony with voluptuous aromas of raisins, amaretto, and roasty bourbon. The silky, viscous mouthfeel coats the palate with a turbinado sweetness, dark fruit, and a smooth, belly-warming, spirited finish.
STYLE
Among devotees of Craft Beer, there are incomparable beers which become Standards of Faith testifying there are Brewers who care deeply about their art. Rich and warming, each annual brew of the Invictus solera program originates with the 2015 genesis with beautiful variations of each barrel-aged vintage.