Your Own Mind Is a Really Fun Place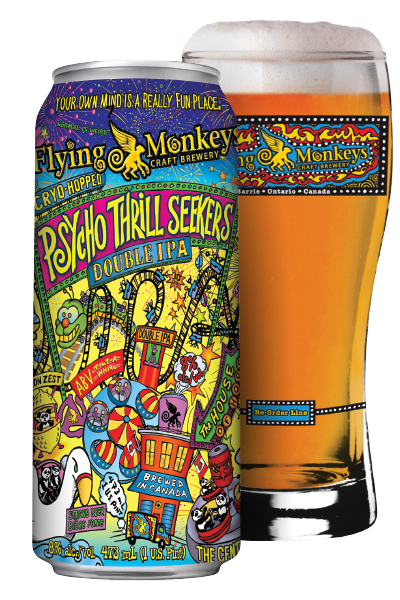 Psycho Thrill Seekers Double IPA
This pop-your-top rollercoaster of a Double IPA is a great ride, man.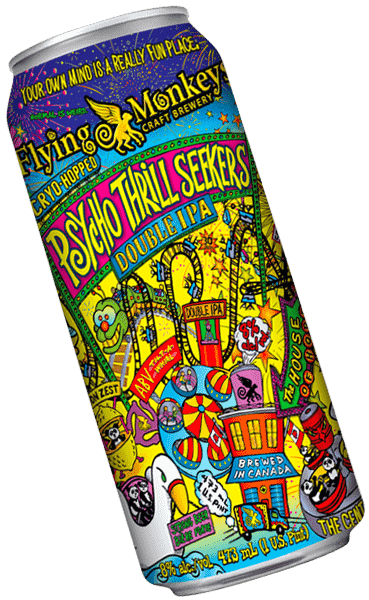 PACKAGE AVAILABILITY
Cans 473mL
Available at select LCBO & at the Brewery
LCBO# 538850 *Spring Seasonal
INSIDE THE RECIPE
ABV 8% alc./vol. | 30 IBUs
Malts: Pale Malt; Wheat Malt; Carafoam Malt
Hops: Cascade, Idaho, Amarillo
Dry-Hopped: Idaho7 Cryo, Citra Cryo, & Simcoe Cryo plus Cashmere, Cascade and Mosaic
Special Additions: Lemon Peel and Indian Coriander Seeds

TASTE
A whirling hazy brew with Cascade, Idaho7, and Amarillo hops is dosed with the bright, peppery buzz of Indian coriander seed and pithy zestiness of fresh lemon peels. A fresh hop profile made bright and tantalizing with spicy citrus hints.
STYLE
This Double IPA is fast-laned with the clean intensity of Cryo-Hops – Mosaic, Citra, and Idaho7 – and electrified by a regular regime of classic dry-hopping with Lemondrop and Cascade keeping the whole thing fast and fun.
SERVE WITH
With fresh lemon hints and a little earthy spice on the end of this not-overtly-boozy DIPA, pair all kinds of fresh grilled things with this one --especially veggies. Kebabs are super nice, and you can do beef but be surprised how nice garlicky chicken, lamb, or shellfish taste skewered with your vegetables. For apps or snacks, think creamy fresh cheese dips (spinach or artichoke are classics) or cool hummus and your favourite with a neat blend of fresh, salty and creamy.