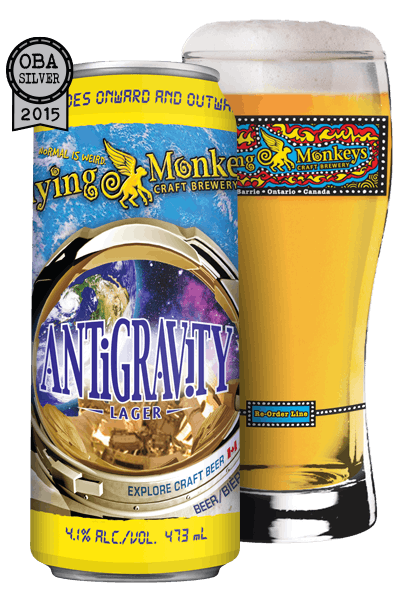 Antigravity Lager
Light by any standards, but still up to Flying Monkeys' standards, Antigravity accomplishes our mission to craft-brew a light beer that actually has flavour. Onward and Outward, Flying Monkeys.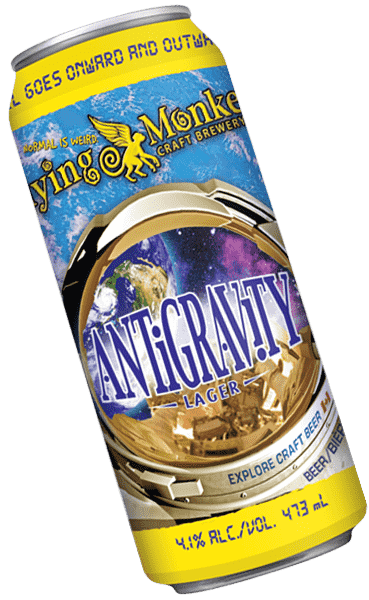 PACKAGE AVAILABILITY
473mL Cans | 24 x 473mL Cans
20L Kegs | 30L Kegs | 58.6L Kegs
Available at select Grocers & at the Brewery
LCBO# 355396
INSIDE THE RECIPE
ABV 4% | OG 1.040 | IBUs 8 | SRM 3
Malts: 2-Row Pale Malt (Metcalf and Copeland)
Hops: Saaz (bittering and late-hopping)

TASTE
Brewed with Canadian 2-row pale malt, Antigravity is a super-refreshing, clean-tasting, lager with a dry brush of European Saaz hops on the finish.
STYLE
Yeah, we know: "light" and "craft brewed" in the same sentence? Yes. Antigravity is a natural, craft-brewed light lager late-hopped for a complexity not usually found at the lighter end of the spectrum.
SERVE WITH
Antigravity compliments traditional "beer foods" like pizza, fries or poutine, wings, and other spicy or fatty foods. Once you torch your palate with hot wings, a thirst-quenching lager still leaves your mouth ready to savour the rest of your meal.