The Definitive Statement on Chocolate & Beer.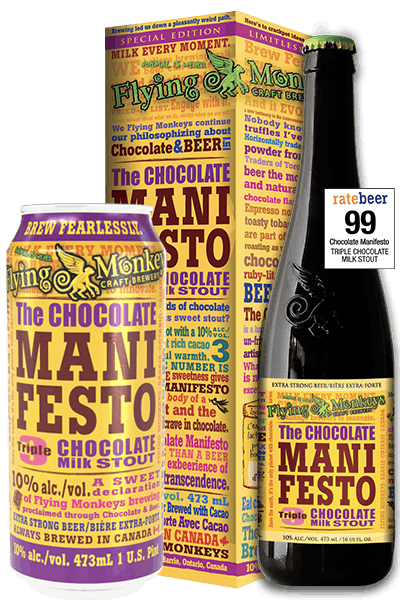 Chocolate Manifesto Triple Chocolate Milk Stout
For those seeking decadence and transcendence in a craft beer, we bring you The Chocolate Manifesto Triple Chocolate Milk Stout, a luxurious beer that demands to be shared among friends. With 3 kinds of chocolate, this beer is a euphoric detour from the mundane. Life is too short to brew beer that doesn't matter to you.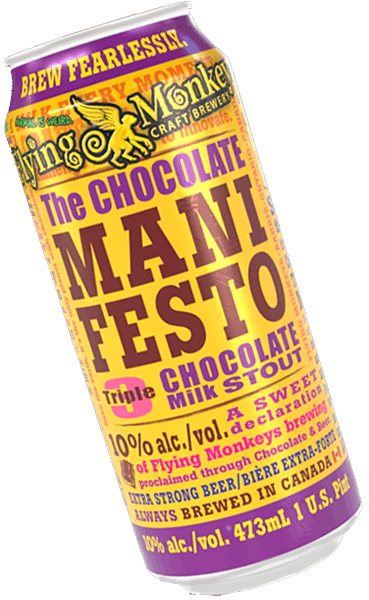 PACKAGE AVAILABILITY
Cans 473mL | Kegs 30L
LIMITED 473mL Box & Bottle Brewery Only
Available at the Brewery, LCBO (Holiday & Winter)
LCBO# 534594
INSIDE THE RECIPE
ABV 10% alc./vol. | OG 1.109 | SRM Just Black
Malts: Chocolate Malt, Dark Crystal Malt, Roasted Barley, Pale Malt, Flaked Oats
Hops: Millennium Hops (for bittering)

TASTE
The Chocolate Manifesto is our definitive statement on beer and chocolate. Unfermentable milk sugars, or lactose, gives this classic Milk Stout voluptuous body and velvety mouthfeel.
STYLE
Three strata of raw cacao nibs, cacao powder, and chocolate malt layer a triple doozie of chocolate in this unique Milk Stout. Earthy espresso notes and creamy chocolate dominate this ruby-lit, burnt umber bodied beer simmering with a welcoming 10% ABV of bittersweet warmth.
SERVE WITH
The Chocolate Manifesto is a dessert unto itself. Drop in a scoop of ice cream and it becomes an amazing beer float. Also pairs with chocolate cake, crème brûlée, bread pudding, or classic pound cake, and fruity cheesecake.