Something Beautiful Always Lies Within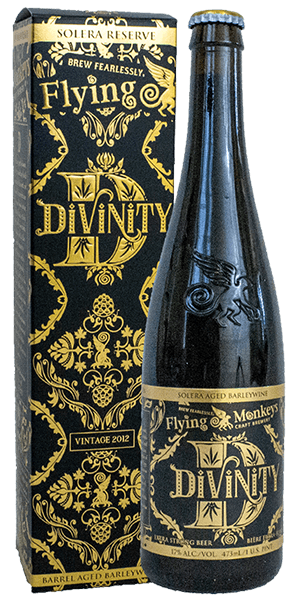 Divinity Solera Reserve Barrel Aged Barleywine
Born of patience and the beautiful inexactitude time, our solera program nurtures the divine in each unique barrel coaxing them to share the immortality of their spirits.  Aged from two to eight years in Andalusian sherry and brandy barrels, Jamaican rum barrels, American bourbon barrels, and Niagara Ice Wine Barrels.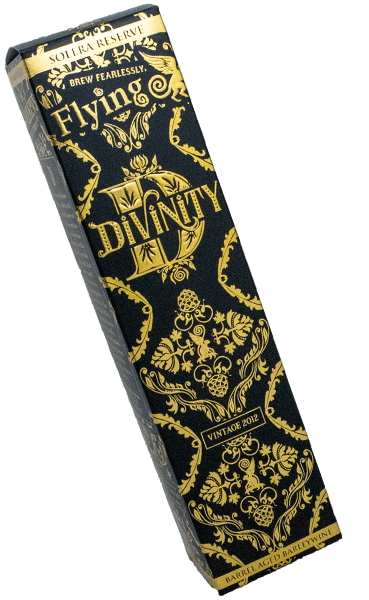 PACKAGE AVAILABILITY
473 ml Specialty Boxed Bottle
Available Online & Always at the Brewery

INSIDE THE RECIPE
ABV 17% | IBUs 37 | SRM 35
Malts: Pale Malt, Munich Malt, Chocolate Malt, Great Western Malt, Roasted Barley, Flaked Oats
Hops: CTZ, Styrian Goldings
Special Additions: Demerara Sugar.
Cellaring: Cellared Over a Year in Andalusian Sherry & Brandy Barrels, Jamaican Rum Barrels, American Buffalo Trace & Heaven Hill Bourbon Barrels, and Niagara Ice Wine Barrels

TASTE
Sweet notes of dried dates, sweet figs, and vinous dark raisins waft in the warm, aromatic stillness of earthy wood and smooth, creamy spirits. In the amber lights of this mahogany barleywine, hints of vanilla, toffees, and espresso emerge in ephemeral glimmers of this solera's self-reflexive creation.
STYLE
Lively and hot, barelywines are obvious yet complex. As part of our solera barrel program, this silken, gentle beast exists as both a vessel of the past and a seed of incarnations to come.
SERVE WITH
Excellent with especially rich Stilton cheese or other complex, aged cheeses with a mound of fresh strawberries.  As an aperitif or an after dinner sipper, Divinity also cuddles nicely with super dark chocolate for a classic dessert.