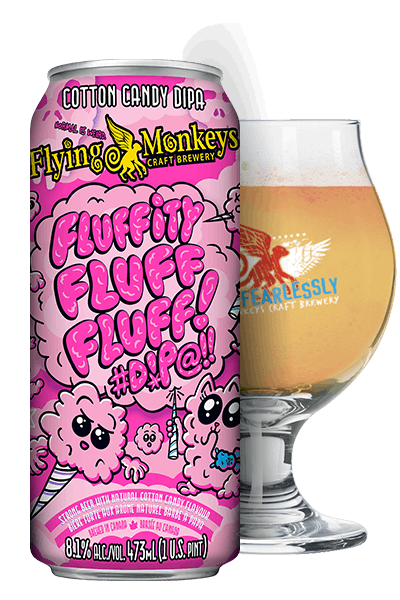 Fluffity Fluff Fluff Cotton Candy DOUBLE IPA
Is this Cotton Candy Double IPA named as an expletive or a giggle of goodness?
Such sweet abominations can be confusing. Brewed with a dose of kitsch, the Flying Monkeys' newest DIPA brings fall fair flavours to hoppy new heights.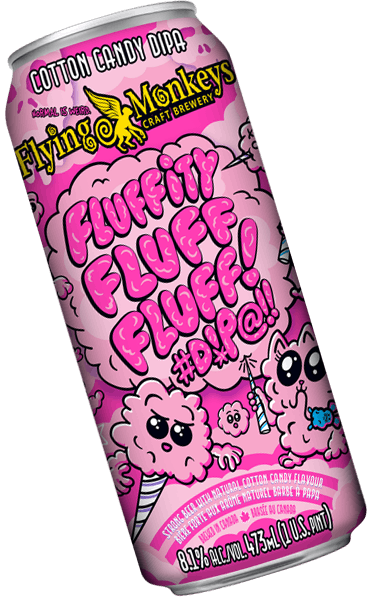 PACKAGE AVAILABILITY
Cans 473mL | Kegs 30L
Available at the Brewery, Online & LCBO
LCBO# 28482
INSIDE THE RECIPE
ABV 8.1% alc./vol. | IBUs 35
Malts: 2-Row Pale Malt, Spelt, Flaked Oats
Hops: Mosaic, Idaho7, Bru1
Dry-Hopping: Cashmere, Enigma, Mosaic Cryo-hops, Idaho7, Bru1
Special Additions: Strawberry Purée, All-Natural Cotton Candy Crystals

TASTE
Outrageous with actual cotton candy crystals and blushed pink with pails of strawberry purée, the carefully curated fruit notes of Mosaic, Cashmere, Enigma, and Bru-1 hops inject some much-needed mischief into this defiant fluff. Flaked oats add a cushiony mouthfeel and a poofy head to the 8.1% ABV body of this deceptively playful fall DIPA. Remember, we've warned you before: Fluffy can be Fierce.
STYLE
Serious treatment of ridiculous ideas is the hallmark of our seasonal Double IPAs. Inspired by our carnival favourite --cotton candy! -- we introduce another deliciously weird idea brewed fearlessly.
SERVE WITH
Enjoy on its own, or pair with spicy habanero dip or cheese-stuffed jalapeño poppers. Perfect as as a palate cleanser with fried cauliflower, creamy desserts ... or with fresh clouds of actual pink cotton candy!