Ever Wish Your Best Friend Was a Cool Dragon?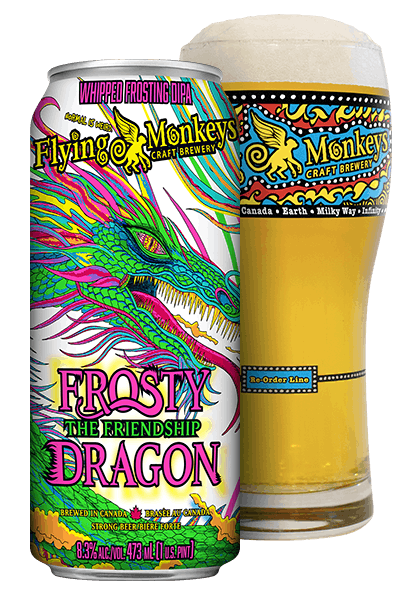 Frosty the Friendship Dragon Whipped Frosting Double IPA
Once upon a brew, in a vast and ridiculous realm, our imaginary friend, Frosty the Friendship Dragon, wanted nothing to do with us. We begged and bribed this cool dragon with hops and vanilla and sweet words of the daring adventures we could have together, and, with an eye roll of annoyance and a cool side glace, Frosty gave us this beer —then told us to Go Away.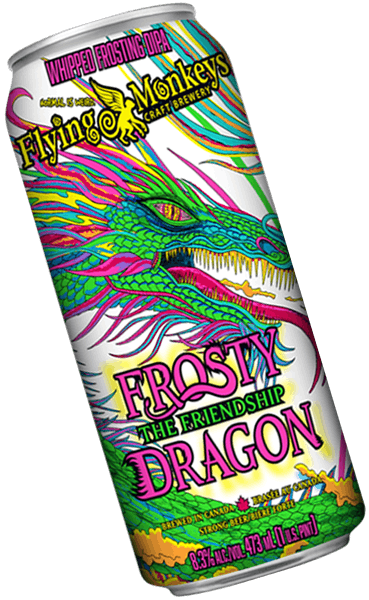 PACKAGE AVAILABILITY
Cans 473mL | Kegs 30L
Available at the Brewery, Online & LCBO
LCBO#
INSIDE THE RECIPE
ABV: 8.3% alc./vol. | 47 IBUs
Malts: Pale Malt (2-Row), Pale Ale Malt, Oat Malt
Hops: Idaho 7, Motueka, Amarillo, Citra, Ekuanot
Dry-Hopping: Amarillo, Motueka, Ekuanot
Special Additions: Vanilla Beans, Lemon Purée

TASTE
Dramatic roars of soft warmth expand in the lactose-laced body of this brew. Within airy pockets of vanilla muffled with whispers of lemon, additions of Amarillo, Motueka, & Ekuanot hops whip this chimerical frosting DIPA into a dreamy vessel of intensely pointless joy.
STYLE
A friendly, happy idea masks a fiercely cool brew earnestly conjured by the imaginative minds of the Flying Monkeys. Our Whipped Frosting Double IPA is a luscious and ethereal brew of creamy lactose, dreamy vanilla, and dripping hops written to be another legendary craft beer experience.
SERVE WITH
Enjoy on its own, or order some fried cauliflower or tempura vegetables with a spicy dip.  Create a new experience enjoying with Green Curry Tofu (or Chicken). Transform your life pairing with a Texas-style Smoked Brisket; and, for a total dessert event, enjoy with Lemon Chiffon Pie or a Lemon Poppy Seed Cake.