Where there are Hops, there is Love.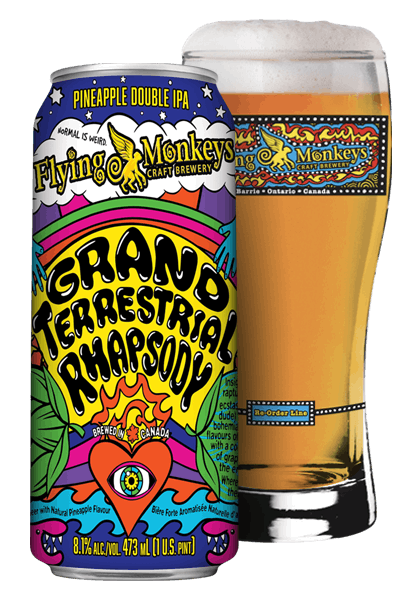 GRAND TERRESTRIAL RHAPSODY PINEAPPLE DOUBLE IPA
Insightfully hopped and illuminated with rapturous pineapple, revel in tropical DIPA ecstasy.
PACKAGE AVAILABILITY
Cans 473mL | Kegs 30L
Available at the Brewery & LCBO
LCBO# 19663
INSIDE THE RECIPE
ABV 8.1% alc./vol.|IBUs 40
Malts:2-Row Pale Malt, Spelt Malt
Hops: Neslon Sauvin, Idaho 7 
Dry-Hopping: Neslon Sauvin, Idaho 7, Galaxy
Special Additions: Pineapple Purée

TASTE
Dig Nelson Sauvin (a hop, not a dude) with wine-y, muscat grape notes and a bohemian attitude. Infused with tropical flavours of Galaxy, another hop friend with a cool name, and earthy layers of grapefruit-bright Idaho 7 (who is dank, but not dirty), pails of pineapple pureé add to the hazy rapture of this exuberant double IPA.  The enlightened know: Where there are hops, there is Love.
STYLE
We revel in making seasonal double IPAs featuring artful hopping and creative additions in fun, bigger profile beers. Grand Terrestrial Rhapsody features the body of a big DIPA made joyous and soulful with tropical pineapple, fruit-showcasing Foggy London yeast, and provocative hops all in a fresh, rapturous haze.   
SERVE WITH
Pairs well with classic Easter ham; salads with strawberries and crumbled bleu cheese or salty feta; New York cheesecake with caramel drizzle; white chocolate macadamia nut cookies; and dishes with sauces featuring ginger, mango, tamarind, chile peppers, orange, or other tropical fruits.