Everyone Sees Things Differently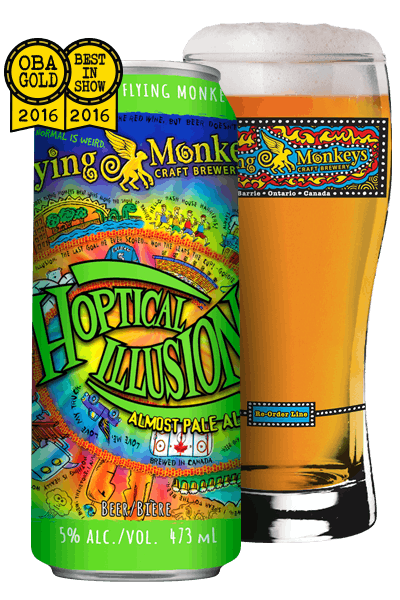 Hoptical Illusion Almost Pale Ale
In the art of craft brewing, Hops are to Brewing What Insanity is to Art.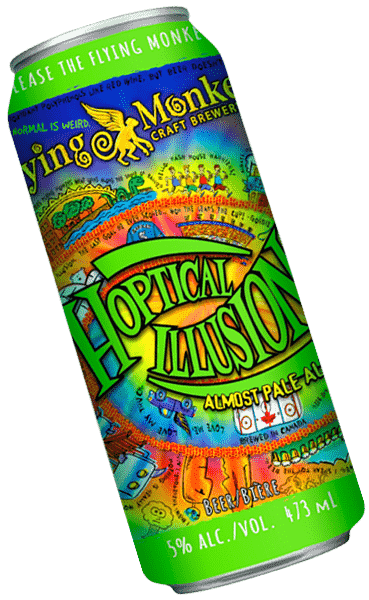 PACKAGE AVAILABILITY
Cans 473mL | Kegs 30L
Available at the Brewery, LCBO, Select Grocers, The Beer Store
LCBO# 492645
INSIDE THE RECIPE
ABV 5.0% | OG 1.048 | IBUs 32 | SRM 12
Malts: Munton's Crystal 150, Muntons Roast Barley, and 2-Row Pale
Hops: Amarillo and Cascade
Late Hops: Amarillo and Cascade
Dry Hopping: Cascade

TASTE
Under the creamy head of moustache-making foam and glinting in the colourful winks of copper twilight, sweet bready malts shimmer with hints of an award-winning British India Pale Ale –-then we dry-hopped the heck out of it with citrusy Amarillo and Cascade hops to call it our own. The fruity finish hints of pithy pine, but the grapefruit gains ground toward the end of each full-flavoured sip.
STYLE
Defying real focus, always fluid and changing, Hoptical Illusion is best called an Almost Pale Ale. Well, it's Almost an American Pale Ale. It's' sort of an oddly dry-hopped British Pale Ale …but it has fleeting hints of an American IPA. Illusions twist the expected into the unusual, so almost is as good as we can get.
SERVE WITH
Perfect for North America's favourite fried or rich foods, seafood, classic fish 'n chips, poultry like duck or turkey, and grilled, sizzling steaks.