The Most Real Things Only Exist in Your Head Anyway.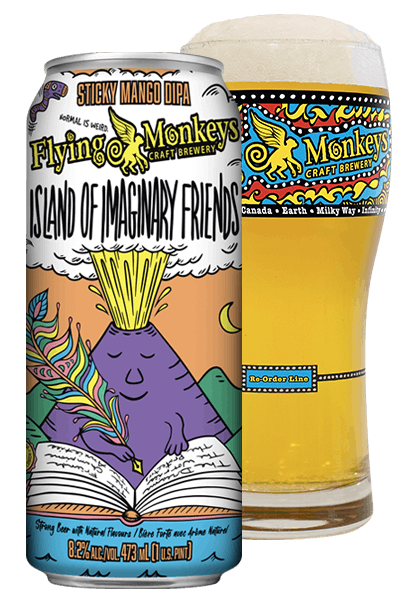 Island of Imaginary Friends Sticky Mango Double IPA
If our minds can imagine magical talking sock puppets, conjuring a luscious Double IPA that tastes like mango sticky rice is a breeze.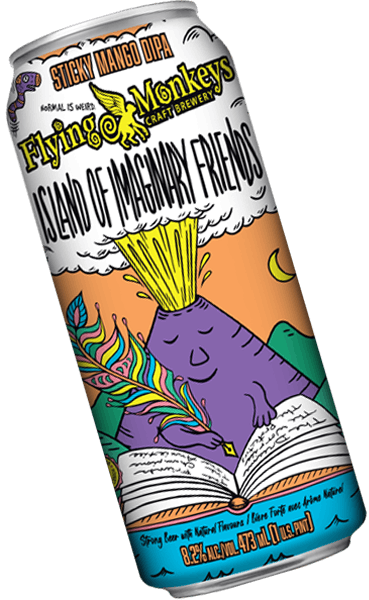 PACKAGE AVAILABILITY
Cans 473mL | Kegs 30L
Available at the Brewery, Online & LCBO
LCBO# 33204
INSIDE THE RECIPE
ABV: 8.2% alc./vol. | 35 IBUs
Malts: Pale Malt (2-Row), Pale Ale Malt, Flaked Rice, Wheat Malt
Hops: Idaho 7, Citra, Sabro
Dry-Hopping: Ekuanot, Ekuanot Cryo, Citra, Sabro, Idaho 71
Special Additions: Mango Purée, Coconut Purée

TASTE
Brewed with rice flakes for a buoyant body, ripe mango purée and fluffy coconut erupt in an explosion of fuzzy, tropical hops settling into a wonderous flavour island of intricate sweetness.   
STYLE
Inspired by various incarnations of the delicious Southeast Asian dessert, Mango Sticky Rice, this friendly, imaginative beer shares the happy place of the Flying Monkeys. Fresh, fun, and always a little bit unpredictable, the Island of Imaginary Friends Sticky Mango DIPA is destined to be loved by imaginary friends everywhere. After all, isn't craft brewing basically about taking ideas that exist in your head and making them real?
SERVE WITH
Enjoy on its own, or pair it with tofu fried rice, spicy shrimp ceviche, or a fat, yeasty doughnut. And if you get the chance, enjoy this DIPA with its muse: Mango Sticky Rice