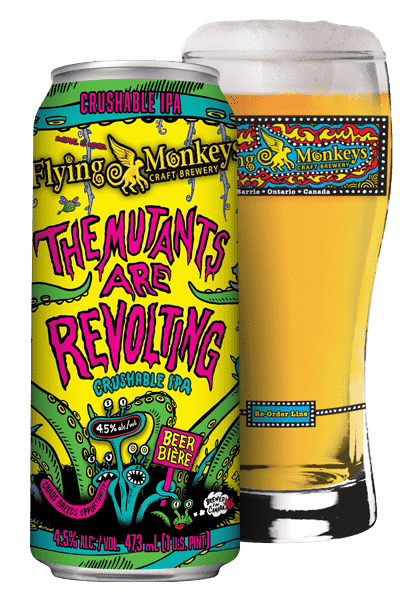 The Mutants are Revolting Crushable IPA
From the depths of the fermenters arise hop-mutant golems of pure alpha acids. We've all seen it before—alligators of enormous size in the sewers, little turtles who grew to talk and fight crime, cannibalistic humanoid underground dwellers …and now, hop mutants from the barrage of IPAs that coat our lives. They've come. The norm is not just weird  … it's mutated.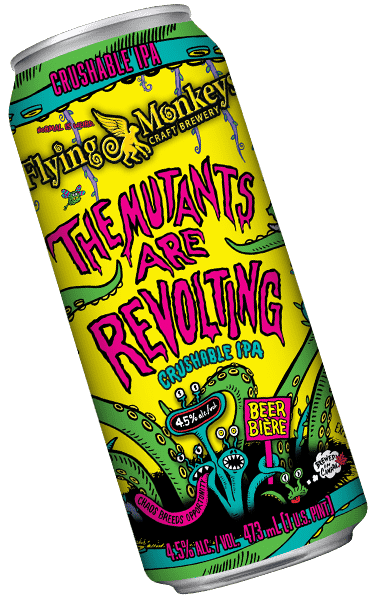 PACKAGE AVAILABILITY
Cans 473mL
Available at the Brewery, LCBO & Select Grocers
LCBO# 15717
INSIDE THE RECIPE
ABV 4.5% | IBUs 38
Malts: 2-Row Pale Malt, Brumalt, Pilsen Malt
Hops: Cascade, Idaho-7, Sabro Saaz
Dry-Hopping: Sabro, Idaho-7, Ekuanot

TASTE
Brewed and cellared with Ekuanot, Idaho7, and Sabro hops, tropical points of pineapple-mango juiciness spike with apricot and tangerine cushioned with a soft huskiness in each refreshing swig.
STYLE
As exciting and interesting the Flying Monkeys' crazy, 10% ABV beers can be, sometimes you're in the mood to enjoy a few beers and still maintain some measure of sobriety. Arise, ye Mutants!  From fresh fermenters come animated golems of morphing alpha acids merging a thoroughly crushable 4.5% abv with the classic crispness of an old school west coast IPA.
SERVE WITH
Great with Italian food, smoky wood-fired pizza, BBQ and grilled foods as well "pub foods" like burgers, wings, and spicy foods. Treat this beer with double the versatility of an Pale Ale or IPA with Indian, Mexican, and Cajun cuisine, charcuterie and tangy, sharp cheeses.