The Sweet Body of a Cookie & The Spiced Soul of Darkness.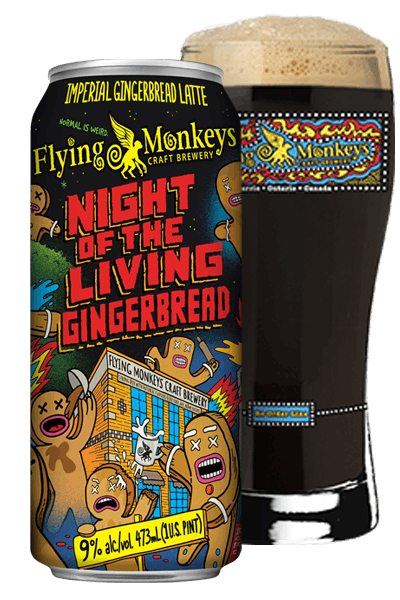 Night of the Living Gingerbread Imperial Gingerbread Latte
They've Come. 
With fiery memories of nightmarish ovens seared into their souls, they've come.  They've come to reclaim their limbs so carelessly cannibalized by the hordes of holiday helpers who cheerfully pluck their eyes and lick their bellies.  Oh, They've Come.  For You.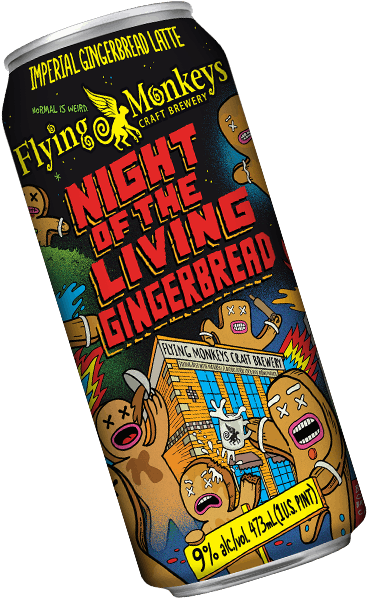 PACKAGE AVAILABILITY
Cans 473mL | Kegs 30L
Available at the Brewery & Online
INSIDE THE RECIPE
ABV 9% alc./vol. | IBUs 26
Malts: 2-Row Pale Malt, Honey Malt, Chocolate Malt
Hops: Pahto
Brew Additions:Cinnamon, Nutmeg, Allspice
Special Additions: Whole Epic North Coffee Beans, Cinnamon, Vanilla extract

TASTE
Strong and dark -- like your soul. The Night of the Living Gingerbread releases the spirit of a crispy gingerbread cookie trapped in the glorious chaos of spices arising in this creature we call beer. Conditioned with locally roasted coffee beans, ginger, cinnamon, allspice, and hints of molasses waft in the ebony body of this spirited brew.
STYLE
Dark tidings we bring of the Gingerbread menace spawned in the roasty fires of the Flying Monkeys.  Frenetic with dark roasted coffee from Epic North and animated with spicy shades of fading latte sweetness, this 9% ABV imperial-strength winter ale melds the sweet body of a vengeful holiday cookie with a boozy soul of winter darkness.    
SERVE WITH
An experience in itself, enjoy with pumpkin pie, rich roasted meats, or in any instance you might have espresso or cold brew coffee.