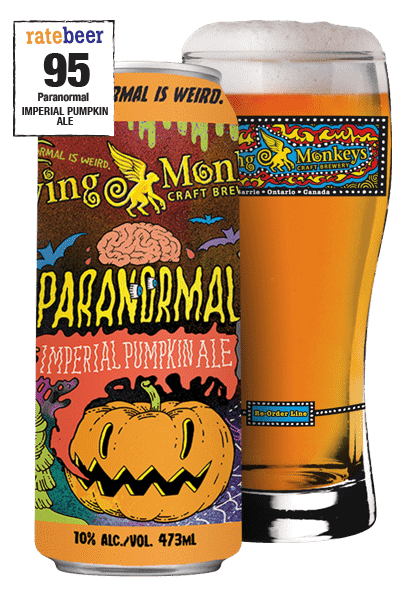 Paranormal Imperial Pumpkin Ale
As if the cult of brewing with pumpkin wasn't already an unexplained phenomenon, the Flying Monkeys have created a rich, mesmerizing Imperial Pumpkin Ale beyond explanation. Irresistible impulses drove us to dump pumpkin in our kettle and douse the brew with exotic warm spices haunting our brewhouse with the toasty aura of Autumn.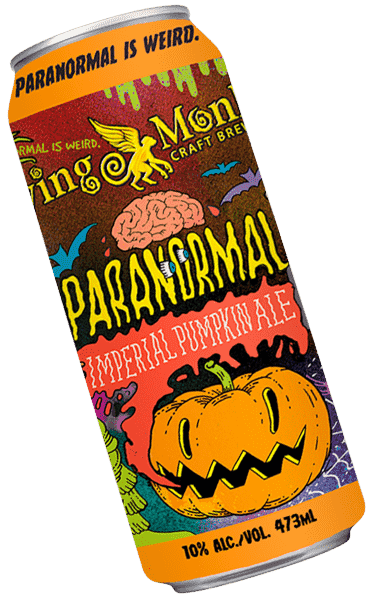 PACKAGE AVAILABILITY
Cans 473mL
Available at select LCBO & at the Brewery
LCBO# 538850 *Fall Seasonal
INSIDE THE RECIPE
ABV 10.0%
Malts: Pale Malt, Melanoidin, Vienna Malt, Caramel/Crystal Malt
Hops: Columbus Hops (boil)
Special Additions: Roasted Pumpkin and Light Brown Sugar added in the mash; Ginger Root, Ground Allspice & Ground Cinnamon in a Boil

TASTE
Pouring with an otherworldly orange glimmer, Paranormal channels the subtle blend of cinnamon, ginger, nutmeg and allspice in the spirited body of a 10% ABV beer. Brewed with roasted pumpkin and spices, Paranormal's rich mouthfeel and a slightly hazy body emerge from a realm where substance and shadow cross.
STYLE
The distinctive roasted pumpkin aromas and beautiful orange body of Paranormal are bolstered by creative spicing creating the aromas of pumpkin pie and a malty incarnation of graham cracker crust.
SERVE WITH
Pairs deliciously well with seasonal roasted root vegetables, turkey and stuffing; or as a finishing touch with rich, creamy desserts like custards or cheesecake, and dark bittersweet chocolate.