A Great Activity for Hours of Brewhouse Fun-- Mind Games Included!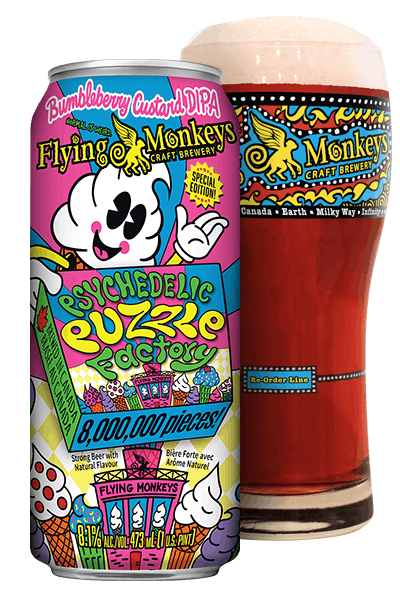 Psychedelic Puzzle Factory Bumbleberry Custard DIPA
Dice-Free with Millions of Pieces (some not included), this Special Edition from the Puzzle Factory shakes up the bumbleberry end of summer with double beery goodness.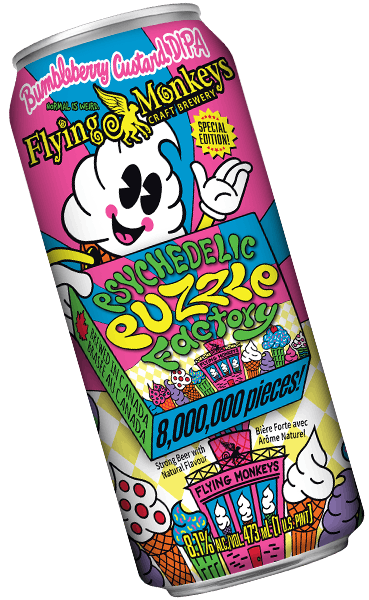 PACKAGE AVAILABILITY
Cans 473mL | Kegs 30L
Available at the Brewery, Online & LCBO
LCBO#34853
INSIDE THE RECIPE
ABV: 8.1% alc./vol. | 35 IBUs
Malts: Pale Malt (2-Row), Pale Ale Malt, Oat Malt
Hops: Idaho 7, Mosaic
Dry-Hopping: Idaho 7, Mosaic
Special Additions: Lactose, Vanilla Beans, Blackberry Purée, Blueberry Purée, Hibiscus Tea

TASTE
What exactly is a bumbleberry?  It's an imaginary berryism made of any summer's abundance of berries, our favourite kind of nonsensical fruit improvisation.    Psychedelic Puzzle Factory features this season's ripe blueberry and juicy blackberry purée swirled with creamy lactose, real vanilla beans, and loads of fruity Mosaic and Idaho7 hops fitted with a touch of hibiscus for a pretty summer sunset hue to create a custardy DIPA treat.   
STYLE
Brewers do a lot of solving for x piecing bumbling ideas together from the corners inward until the whole idea swirls into tanks of focus. All the delicious fragments came together in our latest signature seasonal Double IPA  starting with a late summer bumbleberry mix pieced together with creamy memories of velvety frozen custard.   
SERVE WITH
Share with baked brie or your go-to creamy, buttery cheese. Pair the Puzzle Factory with later summer salads with feta cheese, and acidic, fruity dressings; or serve it for dessert with a swirly soft-serve cone or a slab of rich chocolate cake.