Your Own Mind Is a Really Fun Place.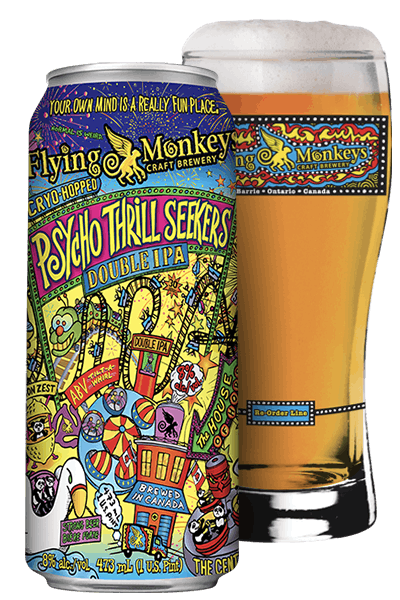 Psycho Thrill Seekers DOUBLE IPA
This Cryo-Hopped Beer took a ride in the Centrifuge of whirling, unfiltered excitement!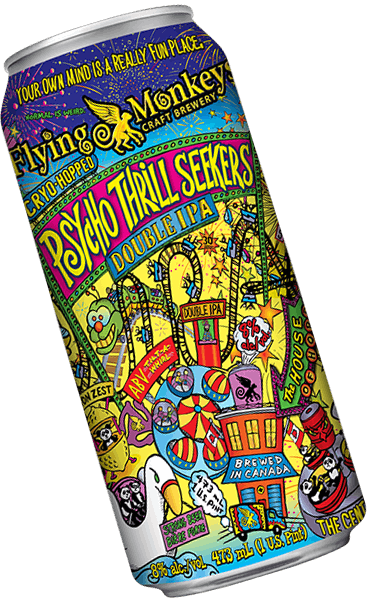 PACKAGE AVAILABILITY
Cans 473mL | Kegs 30L
Available at the Brewery, LCBO & Select Grocers
LCBO# 17386
INSIDE THE RECIPE
ABV 8% alc./vol.|IBUs 46
Malts:2-Row Pale Malt, Wheat Malt, Crystal Malt
Hops: Citra Cryo Hops, Idaho 7
Dry-Hopping: Citra Cryo, Mosaic Cryo, Simcoe Cryo, Cascade, Eureka!
Special Additions: Indian Coriander Seed and Lemon Zest/Peel

TASTE
Psycho Thrill Seekers is a pop-your-top, dizzying, hazy Double IPA. Brewed with Cryo Citra hops and Idaho7, the kettle is also dosed with the bright, peppery buzz of Indian coriander seed and the pithy zestiness of fresh lemon peels. Then, the whole experience is flavour-amped by dry-hopping with Citra Cryo, Mosaic Cryo, Simcoe Cryo, Cascade, and Eureka! hops. It's a good ride, man.
STYLE
We love our adventures with seasonal double IPAs. Artful additions and creative hopping make these bigger profile beers absolutely delicious, soothingly drinkable, and surprisingly unique.
SERVE WITH
Great with burrata cheese, and lends a nice tropical acidity with ceviche, seafood and shellfish. Go for it with spicy BBQ, sticky sauces or Thai food.