Because your brain is already 85% song lyrics.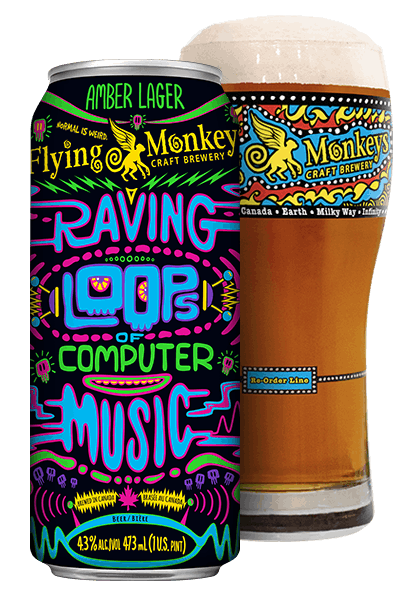 RAVING LOOPS OF COMPUTER MUSIC AMBER LAGER
"Where do you get the names of your beers?" Everywhere and anywhere …but odds are Raving Loops of Computer Music came from a poetically apt --probably misremembered-- phrase from an overwrought Pitchfork article about 90s rave culture stuck in the folds of our minds. Hey, we're not about judging.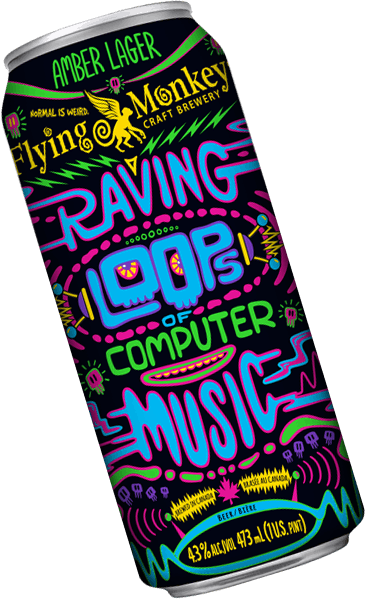 PACKAGE AVAILABILITY
Cans 473mL | Kegs 30L
Available at the Brewery & Online

INSIDE THE RECIPE
ABV 4.3% alc./vol. | IBUs 21
Malts: Vienna Malt, Ireks Munich Malt, Crystal Birch, Carafa III,2-Row Pale Malt
Hops: Loral, Hallertauer


TASTE
Malt-focused and meticulously layered, inspired runs of toasty sweetness support acoustic flairs of lemon-y Loral and floral Hallertauer hops in a shimmering body of marigold light. The melodic layering lifts inducing a trance-like mellow until -- poof, it's done with a crushed can drop.
STYLE
Creative, crushable modern lagers are the comfort food of Craft Brewers and a wonderful alternative to ubiquitous IPAs. And no, this is not Confederation Ale: but it IS a wonderful throwback craft lager style with roots stretching past early American microbreweries back into European Vienna Lagers. Nearly algorithmic in its unique perfection, our crisp-bodied modern Amber Lager flows with fresh depth and spot-on tempos featuring both malts and hops in a soundtrack of its own creation.
SERVE WITH
Crushable with perky carbonation, this beer is meant for sessionable jams, live music, and local food. Enjoy with farm-fresh smoked sausages, spicy gumbo, or a drunken poutine mess. And it's super sweet with some late-night Taco Bell.