Be Ready With Your Glass Empty & Life Full.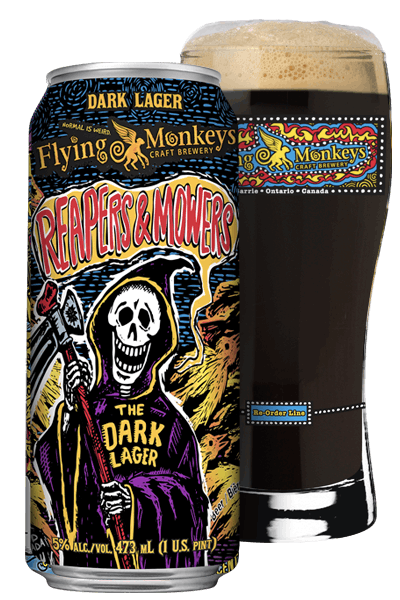 Reapers & Mowers Dark Lager
Darkly smooth and easy as the slip to the Beyond …meet the Reaper drinking deeply fully & living well. 
Easy on the palate and pleasing to the eye, dark lagers are great for the novice craft beer drinker or seasoned expert.  Orderly yet mysterious with striking presence in the glass, urge new folks to give this style a try –it will never disappoint!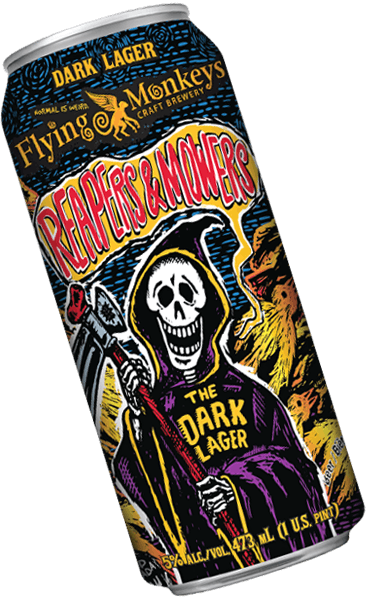 PACKAGE AVAILABILITY
Cans 473mL | Kegs 30L
Available at the Brewery, Online & Exclusive Licensees

INSIDE THE RECIPE
ABV 5% | alc./vol.|IBUs 21 | SRM 30
Malts: 2-Row Pale Malt, Pilsner Malt, Munich Malt, Raven Roasted Wheat, Chocolate Malt
Hops: Saaz, Hallertauer


TASTE
Raven-bodied, the clean bones of this dark libation rise with fresh ease. Sly hints of coffee and cocoa lurk in the shades of malt with decisive cuts of hoppiness on the clean and final finish.
STYLE
With a black body and tan head, this beer is truly oxymoronic. Surprisingly light-bodied for an ebony beer with moderate carbonation similar to a pilsner, this dark lager can be quaffed like any cold refreshing beer on a hot day. With gentle roastiness up front, this beer is as welcomed as a lager (or a cold brew coffee) with just a slight but crisp hoppiness on the unbelievably clean finish.
SERVE WITH
Great on its own, or pair with anything that makes you reach for a lager or pilsner. Enjoy with chips or loaded fries; branch out to shellfish, oysters or mussels, and light seafood; or serve with grilled BBQ pork, spicy jerk chicken, or almost any Mexican cuisine. Even pair a dark lager with light, vegetarian pasta dishes.