The Saga Continues ... in a Quadventure.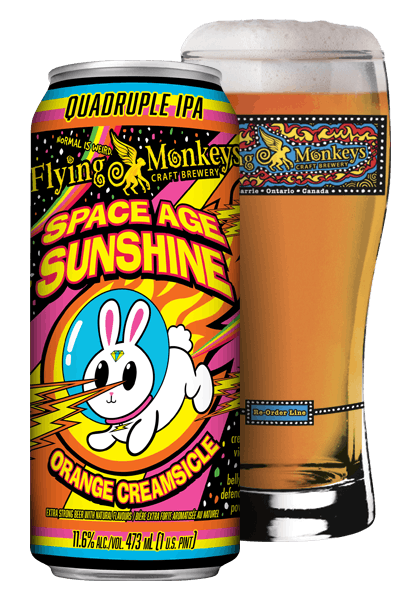 Space Age Sunshine QUADRUPLE IPA
Continuing the galactic mission of Sparklepuff, the fluffy armada of Sunshine Warriors channel the crystal star power of the Ancient Cat with a QUADRUPLE IPA warming the edges of the void and flooding the galaxy with thermal bolts of belly-warming goodness. Bask in the ongoing adventures of the Flying Monkeys!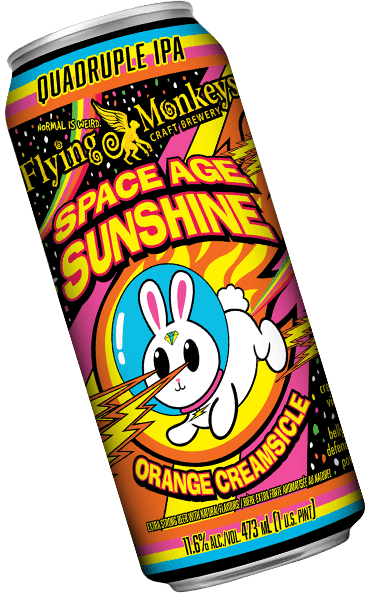 PACKAGE AVAILABILITY
Cans 473mL | Kegs 30L
Available at the Brewery, Online & LCBO
LCBO# 24518
INSIDE THE RECIPE
ABV 11.6% alc./vol. | IBUs 60
Malts: 2-Row Pale Malt, Wheat Malt, Oat Malt, Golden Naked Oats
Hops: Ekuanot, Idaho7, Sabro
Dry-Hopping: Azaca, Ekuanot, Galaxy, Idaho7, Sabro
Special Additions: Orange Peel Granules, Orange Juice Concentrate, Vanilla Beans

TASTE
Glowing with sunny, bright oranges, this soft, warm Quadruple IPA pulses into hyperdrive with dry-hopped power. Pithy notes from Ekuanot hops, creamy tropical fruits of Sabro hops, resiny Idaho 7 evergreen hints, and pineapply Galaxy and Azacca hop flavours converge in the vanilla beams slicing through this phenomenal Quadventure. Fluffy friendly and sunny bright, remember to respect the power of this 11.6% ABV adorableness!
STYLE
Quadruple dry-hopping & the bright orange energy of nostalgiac creamsicle intensify our ongoing galactic missions of growing good. Innocently drinkable, this quadruple IPA radiates with the unbeatable powers of light-scattering, luminous hops throughout a vast brew of perfectly balanced power.
SERVE WITH
Mostly, we enjoy this big 11.6% QuadIPA on its own, but it still goes wonderfully with foods! The orange sweetness and creamy vanilla finish pair delightfully with Butternut Squash Risotto. Intensify the best comfort food and try pairing Space Age Sunshine with Chicken and Dumplings. Or, pair with a fun appetizer like cornmeal dredged okra and cauliflower bites with a creamy Cajun dip. Dessert? Carrot Cake Cupcakes with Cream Cheese frosting!