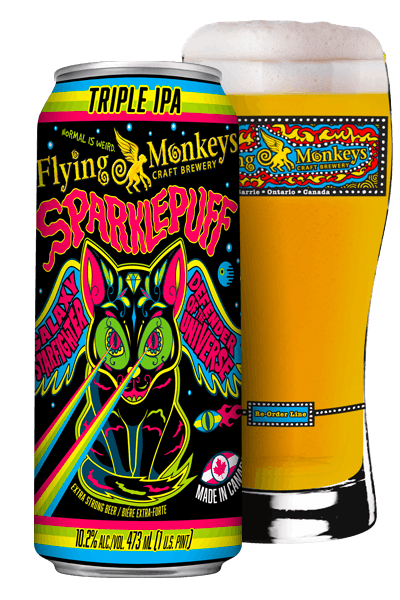 Sparklepuff Triple IPA
Sparklepuff launches with a payload of smashed summer peaches for cushions of fierce malty fluff behind a forcefield of shimmering hops. Beware: the 10.2% ABV is eerily quiet in this Triple IPA. This one's fuzzy -- and dangerous.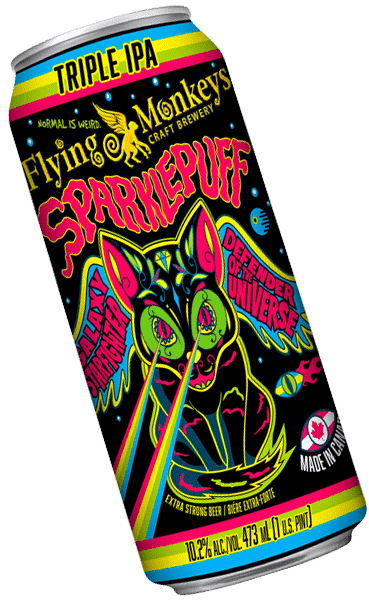 PACKAGE AVAILABILITY
Cans 473mL | Kegs 30L
At the Brewery, LCBO
LCBO# 688507
INSIDE THE RECIPE
ABV 10.2% | IBUs 34 | SRM 4
Malts: Pale Malt (2 Row), Wheat Malt, Oat Flakes
Hops: Simcoe Idaho-7, Three Dry Hop Additions (Fermentation Days 4, 8 & 12): Simcoe, Idaho 7, Vic Secret
Special Additions: Fresh Peach Pureée

TASTE
With an opening salvo of alluring peach aromas followed by the unfiltered intensity of tropical, floral, and earthy hop possibilities, this Triple IPA presents a magnificent kaleidoscope of flavours. Deep gold with apricot glints, the complex bitterness orbits around an axis of fractured hops topped with a nebula of white froth.
STYLE
Three times dry-hopped, triple the hop flavour, and thrice the aroma, the 10.2% Alc./Vol. of this unfiltered Triple IPA adventure glimmers with the epic glory of Sparklepuff, Galaxy Starfighter, Defender of the Universe.
SERVE WITH
Go for a salty charcuterie board with cured meats, creamy cheeses, and all the pickled & preserved extras. Or go sweet with a big bowl of vanilla bean ice cream topped with salted caramel --so nice with the hint of peaches and glimmers of citrusy hops.