Normal is Weird. This is just Madness.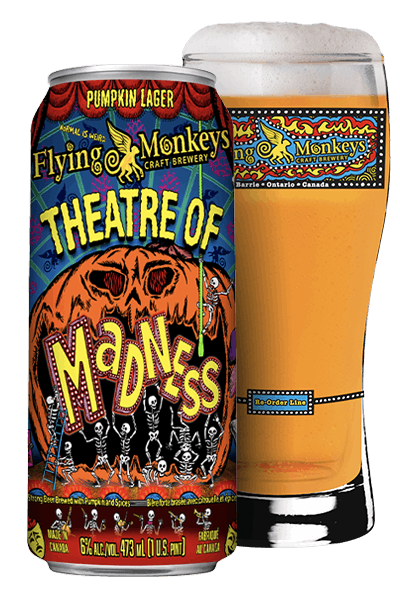 THEATRE OF MADNESS PUMPKIN LAGER
Oh, Madness! It's a Lager!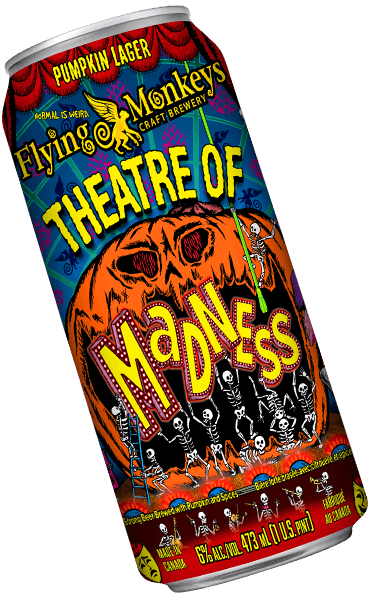 PACKAGE AVAILABILITY
Cans 473mL | Kegs 30L
Available at the Brewery, LCBO & Select Grocers
LCBO# 22621
INSIDE THE RECIPE
ABV 6% alc./vol.|IBUs 20
Malts: 2-Row Pale Malt, Honey Gambrinus Malt, Raven Roasted Wheat
Hops: Cascade, Pahto
Special Additions: Pumpkin Puree, Cinnamon, Allspice, Nutmeg, Demerara Sugar, Lactose.

TASTE
Again, the spectre of pumpkin beers lured us to stage this bizarre incarnation of the unexpected, but this time --oh, Madness!-- in a lager.  Brewed featuring Pureed Pumpkin, co-starring the trio of Cinnamon, Allspice & Nutmeg, and orchestrated with a creamy dollop of Lactose, the depth of this haunting lager performance captivated our Brewhouse with its eerie drama.
STYLE
Don't let the alluring levity of a 6% abv deceive you – the interdimensional energy of this brew is anything but mundane.  Fresh, inviting winks of malty sweetness introduce seductive spice and rich pumpkin in a lager realm that traps you in the madness of the whole performance -- and no one escapes. How could a friendly lager become so fiendish? 
SERVE WITH
Perfect for fall anything – including football and tailgating! Enjoy with brats, meaty or veggie chili, shepherd's pie, or the perfect leftover turkey sandwich with apple and brie.