A Tickle of Joy on the Belly of the Universe.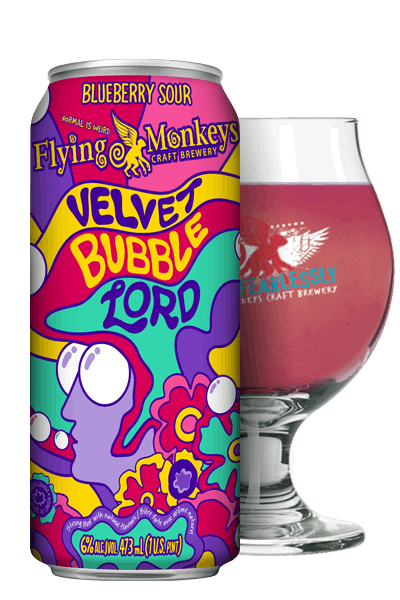 Velvet Bubble Lord Blueberry Sour
Oh, delight!
Bright bubbles float above a luscious magenta body
of velvety blueberries swirling with
sly acidic quips of floral lemon verbena.
Huzzah!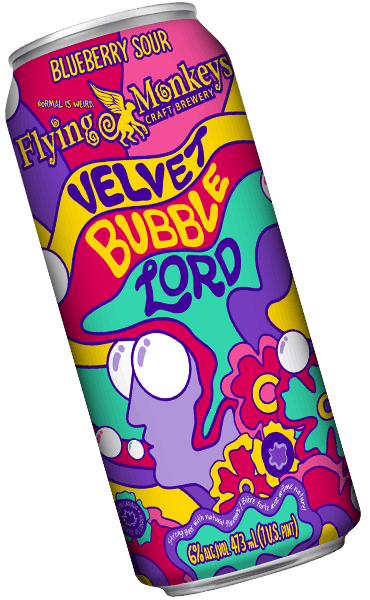 PACKAGE AVAILABILITY
Cans 473mL | Kegs 30L
Available at the Brewery, Online & LCBO
LCBO# 25664
INSIDE THE RECIPE
ABV 6% alc./vol. | IBUs 15
Malts: 2-Row Pale Malt, Crystal Maple Malt
Hops: Mosaic
Special Additions: Blueberry purée, Blueberry powder, Lemon Verbena


TASTE
Jammy Gamay Noir notes segue into curious Pinot Noir hints unique to the profile of blueberry skins. Meanwhile, lemon verbena sings with floral, citrus whispers in the briefly acidic body elevating the Velvet Bubble Lord to fresh and fancy realms of joy.
STYLE
Brewed with special Philly Sour Yeast, the Velvet Bubble Lord luxuriates with refreshing acidity and deep stone fruit notes perfect for the profiles we imagined for our fruited sours. Fresh Blueberry Purée and citrusy Lemon Verbena create wonderful buoyancy in this delicious beer with blush bubbles floating above a luscious magenta body of velvety fruit.
SERVE WITH
Enjoy with an appetizer of fried calamari with a fresh lemon squeeze or baked burrata cheese with basil-y pesto and crusty bread.  Pair with a fat rib-eye steak with balsamic glaze, or, drink it with a dessert of strawberry shortcake with orange-laced whipped cream.