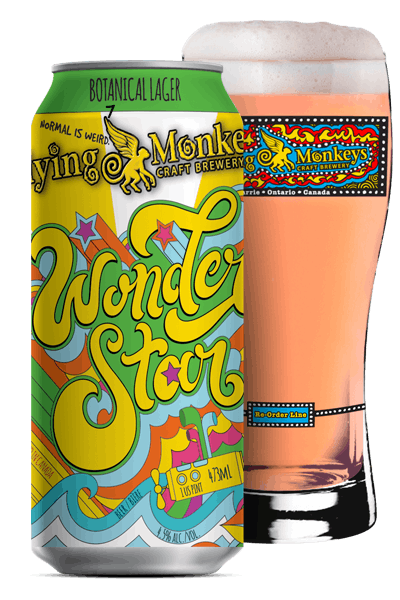 Wonderstar Botanical Lager
Zippy tartness, psychedelic currant twists, and far out waves of bright hops star in the blushing body of this clean botanical lager. Dry-hopped with lemon-y Amarillo hops, Wonderstar sings with a fresh mouthfeel, ever-so-slight bitterness, and winks of a citrus garnish to the finish.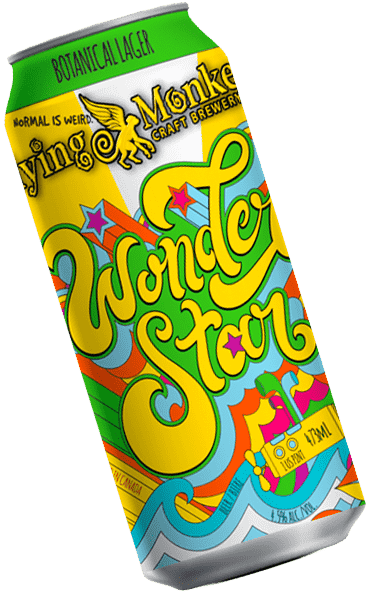 PACKAGE AVAILABILITY
Cans 473mL | Kegs 30L
Available at select LCBO, Grocers & at the Brewery
LCBO# 574400 *Spring/Summer Seasonal
INSIDE THE RECIPE
ABV 4.5% | IBUs 14
Malts: 2-Row Pale Malt
Hops: Columbus/Tomahawk/Zeus (CTZ)

TASTE
Even better than its gin botanical muse, Wonderstar is a crisp, light-bodied craft lager. With fruit on the nose, fresh juniper and citrus aromatics, and ever-so-slight bitterness from fresh citrus-y hops, Wonderstar ranks high in the pantheon of Ultimate Patio Beers, which is basically the craft beer equivalent of a Yacht Rock playlist.
STYLE
The botanical lager, like the fruit beer, is for all you mofos who, like us, do it patio style. Take a clean (albeit lame) refreshing lager, the kind you'd already find in a dockside cooler or a lawnmower cupholder, then summer it up with all the fresh fixin's of super-sippin' cocktails and fresh teas imbibed under the gazebo, poured on a patio, or sloshed from a pitcher on the front porch. Now keep it all a sessionable abv with bright hops and tart botanicals, and make good stuff. Be creative, folks.
SERVE WITH
Brunch food, crisp salads, smoked salmon, and anything with cucumbers. Or enjoy with deserts like crème fraiche and strawberries, key lime tarts, or fresh churned peach ice cream. Incredible on its own, or garnish with a lime if you're feeling fancy.