Worlds Away From Everything.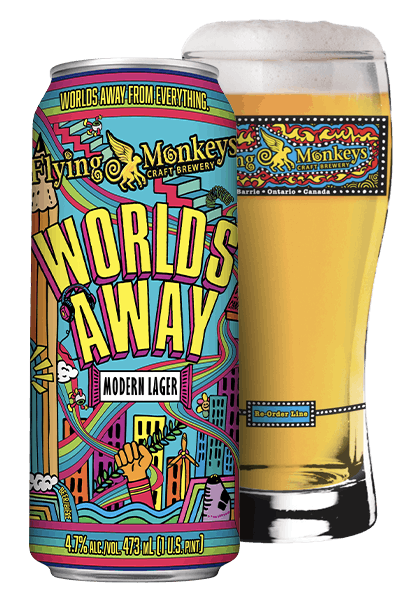 Worlds Away Modern Lager
Dreaming of a vivid world where everything works in harmony?  
Find peace in Worlds Away Modern Lager, and high five the friendship bubble of Canadian 2-Row & 6-Row malts teamed with the snappy duo of Saaz and Hallertau hops.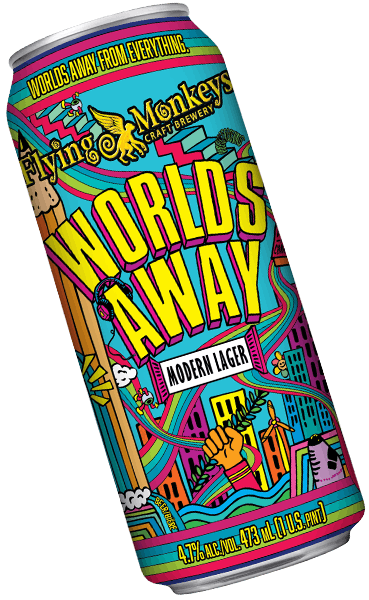 PACKAGE AVAILABILITY
Cans 473mL | Kegs 30L
Available at The Brewery
Have It Delivered Through Our E-Store!
INSIDE THE RECIPE
ABV 4.7% | IBUs 16
Malts: Canadian 2-Row & 6-Row Pilsen Malt
Hops: Pahto (boil), Hallertau, & Saaz


TASTE
Tickles of spice and snaps of lemon wave with tiny winks of saltiness in the fresh flavours of this unfiltered modern craft lager.  Crushable with perky carbonation, prepare to be peppered with joy by the charm of clean outgoing malts, yeasty softness, and glimmers of citrus hops. 
STYLE
Modern craft lagers belong in your beer fridge. Clean, fresh, lagers brewed with creativity and integrity are like comfort food to refresh your beer palate. A humble style that cannot be flawed, the craft world of unfiltered beers and contemporary hops infuses new quiet depths and intriguing nuances to this friendly style. 
SERVE WITH
Because lagers are refreshing with clean flavors, they're ideal for pairing with just about any type of food. Lagers are the beer we think of with pizza, burgers, hot dogs, nachos, pretzels and salty snacks.