THE FLYING MONKEYS TAPROOM
Welcome to the Brewery! The Taproom is FIRST COME, FIRST SERVED. Sorry, but we don't take reservations.
NEW HOURS Monday thru Friday 11am to Midnight
Saturdays 10am to Midnight
Sundays 10am to 11pm
For other Tap Room inquiries, TEXT us directly at
(236) 237-0953
BREWERY EXCLUSIVE!
Infinite Minds Craft Seltzers by Flying Monkeys
Now, there's Something Weird for Everyone.
Taps
Can't pick just one beer? Try 4!
Build Your Own Flight of Flying Monkeys 4 x 5 oz.
Prices Vary With Selections.
BREWERY EXCLUSIVE! Infinite Minds Craft Seltzers by Flying Monkeys
1. WORLDS AWAY Modern Lager

4.7%

Progressive unfiltered lager with 6-row malt

2. SPARKLE PUFF, GALAXY STARFIGHTER

10.2%

Triple Dry Hopped Triple IPA - Citrus peaches

3. THE MUTANTS ARE REVOLTING

4.5%

Crushable IPA - Idaho 7 And Sabro Hops

4. QUANTUM HUGS

6.1%

cold ipa w/ Sabro, Strata, Azacca, Motueka

5. VELVET BUBBLELORD

6%

Blueberry sour with a kiss of lemon verbena

6. JUICY ASS IPA

6.5%

highly hopped unfiltered IPA

7. LIVE TRANSMISSION MILKSHAKE IPA

6.3%

Ipa with Lactose, Coconut and Orange

8. CHOCOLATE MANIFESTO

10%

Imperial Triple Chocolate Milk Stout
9. 12 MINUTES TO DESTINY

4.1%

Rose-hips, hibiscus and Raspberry Lager

10. SPACE AGE SUNSHINE

11.6%

Quadruple IPA - orange creamsicle

11. pilot - FORGET ME NOT?

10%

Barrel-aged Barleywine aged on cherries

12. HOPTICAL ILLUSION ALMOST PALE ALE

5%

Toasted Biscuit with Amarillo and Cascade

13. RAVING LOOPS OF COMPUTER MUSIC

4.3%

Modern Amber Lager

14. THEATRE OF MADNESS

6%

Pumpkin lager W/ Lactose and Spices

15. pilot - FLOSSY

8.1%

cotton candy berry IIPA

16. INTERGALACTIC STAR GLAZER

8.2%

Maple baltic porter on nitro
Seltzers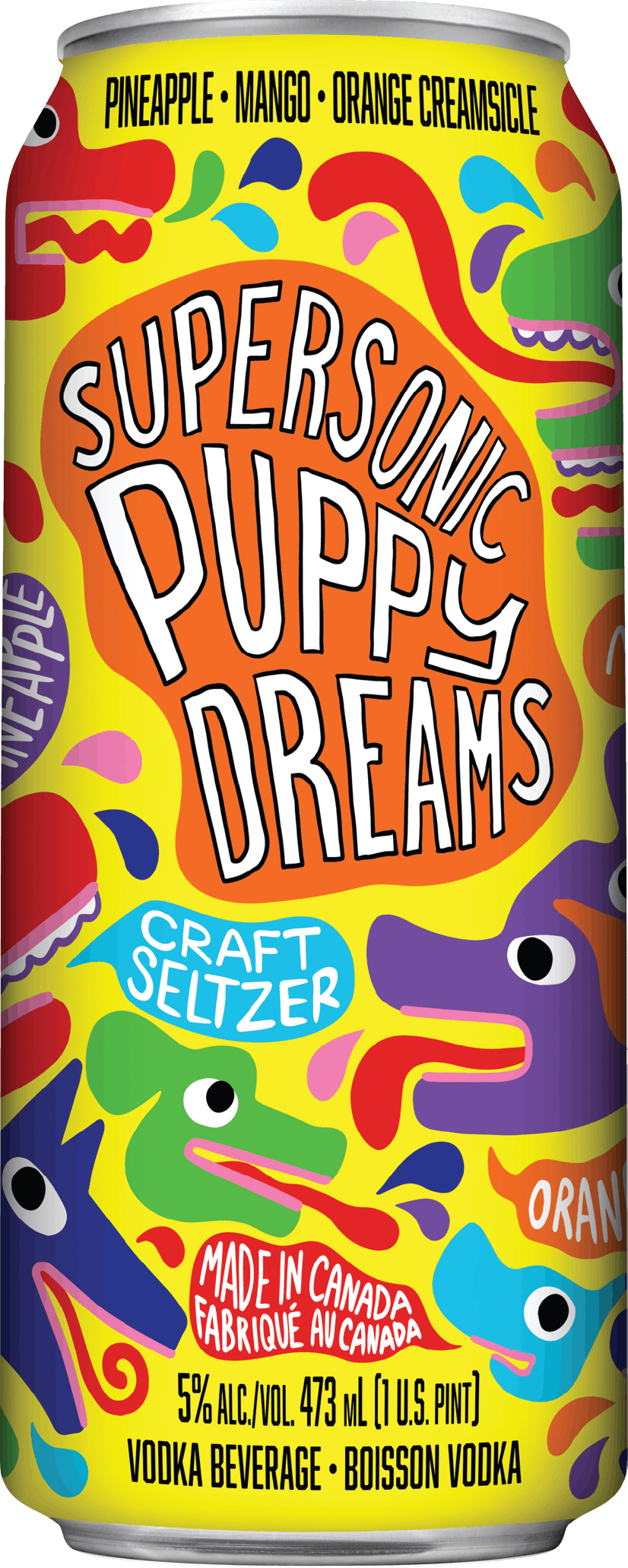 Supersonic Puppy Dreams

5%

NOW AVAILABLE IN THE LCBO! The nostalgic tastes of orange creamsicle, the pineapple joy of the first chew of juicy fruit gum, and the memory of tart mango cocktails, all captured within a 130 calorie vodka seltzer.

Robots Kiss Butterflies

5%

Lemon circuitry is layered with tart-noted gooseberries, popped by sweet-tart sparkles of ginger in this vodka seltzer.

Space Born Unicorn

5%

A vodka seltzer of multifaceted refreshment with cool waves of watermelon in pristine springs of cucumber departing on an aurora of lime.

Tangerine Fuzz Machine

5%

This trippy little vodka seltzer sippy pulses with tingly tangerine, soft fuzzy peaches, and glittery yuzu sass on the finish.
Fridge
Quantum Hugs Cold IPA

6%

Bright and crisp counterpunch to the heavier NE-style IPAs

Space Age Sunshine Quadruple IPA

11.6%

Sunny oranges & soft vanilla in big dry-hopped Quadruple IPA with a virtually invisible 11.6% ABV

SPARKLEPUFF TRIPLE IPA

10%

A big, unfiltered Triple IPA with tropical, earthy hops and beautiful peach glints in a kaleidoscope of flavours.

Reapers & Mowers Dark Lager

5%

Dark Malts, light coffee/cocoa notes and fleeting hops on finish

JUICY ASS IPA

6.5%

Highly hopped unfiltered IPA 69 IBU

WORLDS AWAY MODERN LAGER

4.7%

Crushable craft lager with modern malts & balanced noble hop finish

THE MUTANTS ARE REVOLTING CRUSHABLE IPA

4.5%

Quaffable, lower ABV IPA bright with Idaho 7 And Sabro Hops

LIVE TRANSMISSION MILKSHAKE IPA

6.3%

IPA with Lactose, Coconut and Orange
12 MINUTES TO DESTINY RASPBERRY HIBISCUS LAGER

4.1%

Rose-hips, hibiscus and Raspberry Lager

CHOCOLATE MANIFESTO TRIPLE CHOCOLATE MILK STOUT